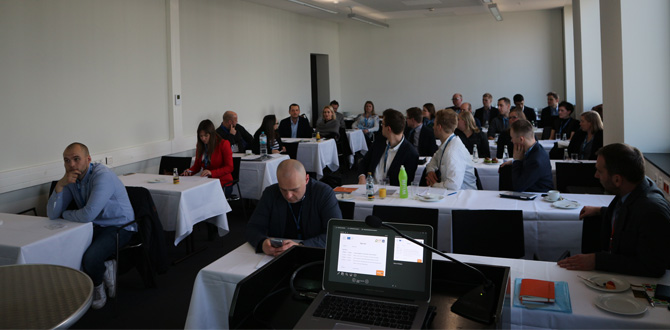 The beginning of March traditionally dates the largest tourism fair in Europe, the ITB in Berlin. This year's edition was special to us. As part of the BSB! project we were able to present the EV10 route to a wider audience who visited the stand prepared by the European Cyclists' Federation. Anyone interested in the project received detailed information about the route, planned investments, and the project itself. An extremely important element was the workshop organised on the 8th of March, by the Mecklenburg-Vorpommern Tourism Board – one of Project Partners. The workshop gathered representatives of tourism businesses, tour operators, hotel managers, and tourism organisations from Denmark, Germany, and Poland that operate along the EV10 route. During the presentation, main project assumptions were presented, together with tasks that will include involvment of tourism entities. Simultaneously, examples of good practice in co-operation, development, and promotion of cycling routes in Europe were presented. The list of speakers included:
Łukasz Magrian – Pomorskie Tourist Board
Marco Ciarriocchi – European Cycling Federation
Jana Trebesius – Mecklenburger Radtour GmbH
Paco Wrolich – Marketing & Innovations Management GmbH, Kärnten Marketing
During the final part of the meeting, participants had the possibility to exchange their thoughts and comments. It was also an excellent networking opportunity for future co-operation in creating cycling tourism offers.
9 March Łukasz Magrian – BSB! The project manager participated in a discussion organised during one of the sessions on active tourism. Among other participants of the meeting, he briefly introduced project assumptions, and presented the activities for the following months.